Hello
I am an art director and designer for immersive and interactive media. My work has appeared in the Transmediale festival in Berlin and the Mutek festival in San Francisco. I have worked with the Finnish National Opera and Ballet and the VR company WITHIN. In the past I worked with DIY.org and other Bay Area companies.
I am an educator and academic. At Parsons School of Design, I teach the studio class Motion Capture for AR/VR. You can see my lectures and tutorials on YouTube. Past material has been published in leading industry publications such as Game Developer Magazine. My research as a founding member with the Web Ecology Project has been covered by (press links) and continues to receive citations a decade later.
I am available for hire for freelance or for part-time/full-time work.
Opera Beyond VR
In 2019, the Finnish National Opera & Ballet sponsored a competition for teams to prototype and pitch a VR experience based on music by Esa-Pekka Salonen and a story prompt by Paula Vesala. They gave us a handful of musical tracks and asked us to create memories of the future as remembered by a young girl.
Our team took the prompt in a highly literal fashion: we proposed that we would create the experience through a series of workshops with children. Magnus Pind and I developed a speculative design workshop for kids, guiding them through the process of imagining the world 30 years from now in a realistic yet empowering fashion, then exploring scenarios in the worlds they built. Below is a sizzle reel of the VR prototype we built as well as a highlight from one of the workshops.
Teratogenesis
An anxiety-fueled techno-operatic sculptural projection-mapped video-installation fever-dream about capitalism, industrialization, and endless extraction starring an open-pit mine.
Shown as part of the 2018 Mutek SF festival; preview exhibited at Transmediale Festival, Berlin, Germany, February 2017
Synthesizers by Nullsleep (Jeremiah Johnson)
Human vocals by Anja Thietze
TOOLS: Shopbot PRSalpha CNC Router, Cinema 4D, Maya, RealFlow, After Effects, Premiere Pro, Unity, Melodyne, Logic Pro X, Plogue Chipspeech, various tools on GitHub for ripping Google Maps data, satellite heightmaps, etc.
Interactive Art Direction & UX Design
Performed product design and engineering for the DIY.org iOS app, a learning platform and community for kids based on making things in person and sharing them online. Designed and coded a child-focused account creation experience that dressed up creating a pseudonym in game-like visual language and interactions, boosting sign-up completion rates. The app was an Apple Editor's choice twice and is included in the permanent Education collection.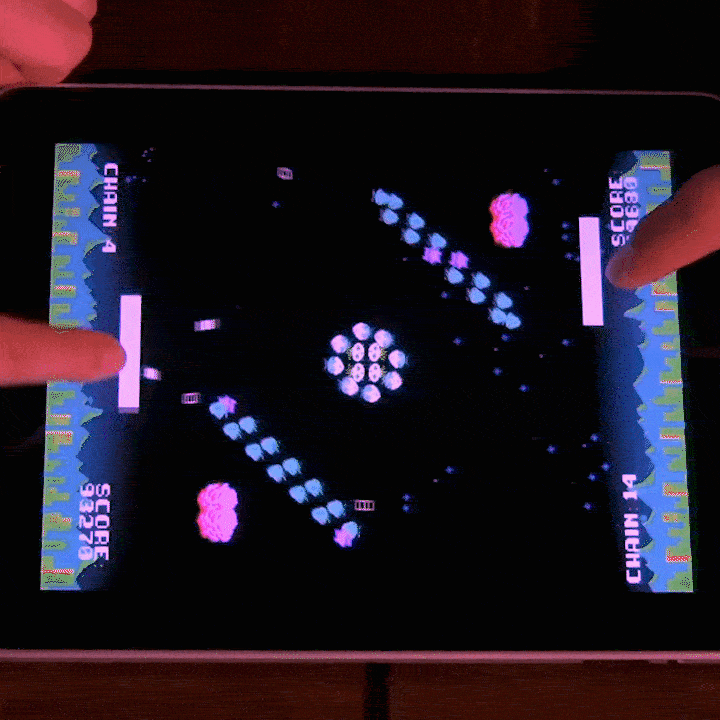 PongVaders was a 2010 mashup of the arcade games Pong and Space Invaders for the iPad. I created it with three friends: Cole Krumbholz and I performed design and engineering, Anna Anthropy clicked the pixel art, and Jeremiah Johnson punched buttons on a hacked Gameboy for the soundtrack. Part of the first wave of multiplayer games on the iPad, the game was a forerunner in the local multiplayer renaissance. We had nearly 100k downloads, putting us in the iPad top 20. Apple featured the game in their 'Lost In Space' app collection.